What If Anger Is Your Ally: Understanding Anger Through a Trauma-Informed Lens
Anger. It Get's A Bad Rap.
It's the emotion you want to get rid of, or have been told is bad. But what if it's actually doing you a favor?
I get it. Anger can feel pretty loaded.
It feels intense when it surfaces.
Or it feels hard to access.
Maybe you're afraid of feeling it because of how you've seen and experienced others express their anger in damaging ways.
Maybe you've been told it's a surface emotion for other emotions like grief (and sure, sometimesit is, but not always).
Or maybe you're like countless other women who disproportionately hear messages about being difficult, impolite, or dramatic when they express their anger.
Holding it in makes you feel powerless. But the inevitable explosion of your bottled-up anger makes you feel out of control. And still powerless. 
As Dr. Kristin Neff points out in her book Fierce Self-Compassion, "It's ironic that anger, which is an inherently powerful emotion, causes women to feel powerless because we're not allowed to acknowledge anger as part of our true nature." 
I couldn't agree more.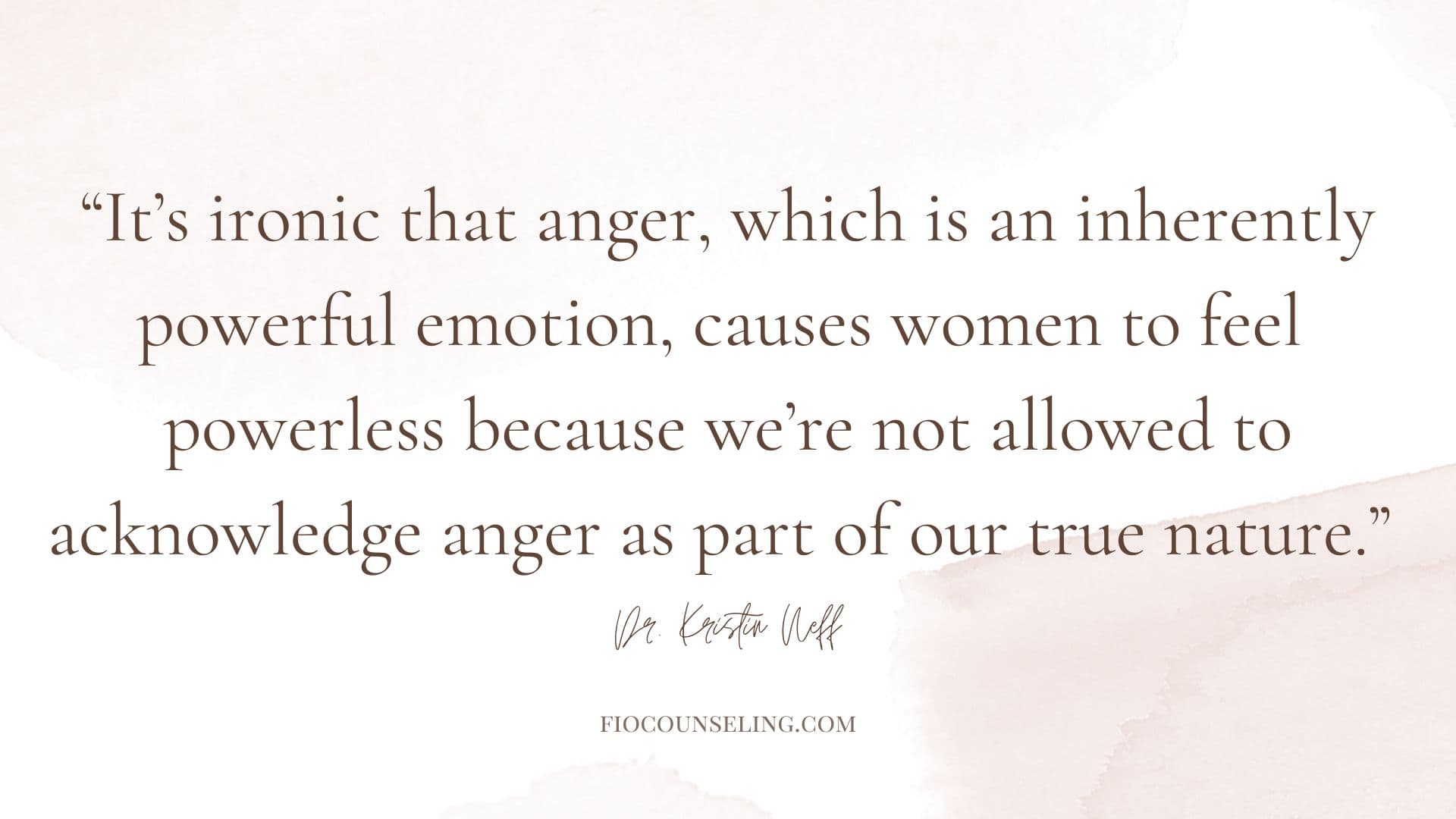 The Cost of Misunderstanding Anger
Don't get me wrong, anger can be expressed and communicated in damaging ways. That doesn't make it inherently bad or destructive though.
And vilifying anger has disconnected women from themselves – from their internal wisdom and completely reasonable responses.
It's been disconnecting women from themselves for a long time. It's no wonder you couldn't access this vital information when you were being shamed for a natural, healthy reaction to violating or harmful experiences.
It's not right. 
So here's what I wish I knew about anger when I was younger, and maybe you did too:
ONE: Anger is Protective
It's rooted in the part of you fiercely protective of your wellbeing. Anger signals injustice, something isn't working, boundaries are being violated, or there's a threat to your dignity. It reorients you to your agency and power. As Dr. Neff suggests, "anger reminds us that we have a powerful voice in how we choose to live our lives."
TWO: Anger Lives in the Body
We experience anger in our bodies. Like any other emotion, it's energy. Anger is a surge of fierce energy that mobilizes you to take action in whatever way is needed – whether that's to defend or protect yourself, to communicate your needs and boundaries, or to own your voice. Tuning into your body's unique expression of anger offers insight into how to move through this important emotion.
THREE: Anger Needs Somewhere to Go
I get that it can feel overwhelming. And. Stuffing it down or ignoring it just doesn't work. It doesn't evaporate. And when this energy doesn't have a place to go, it stays in your body. Cue physical tension, headaches, chronic pain, self-criticism, depression, anxiety, and a whole host of other somatic symptoms and sensations.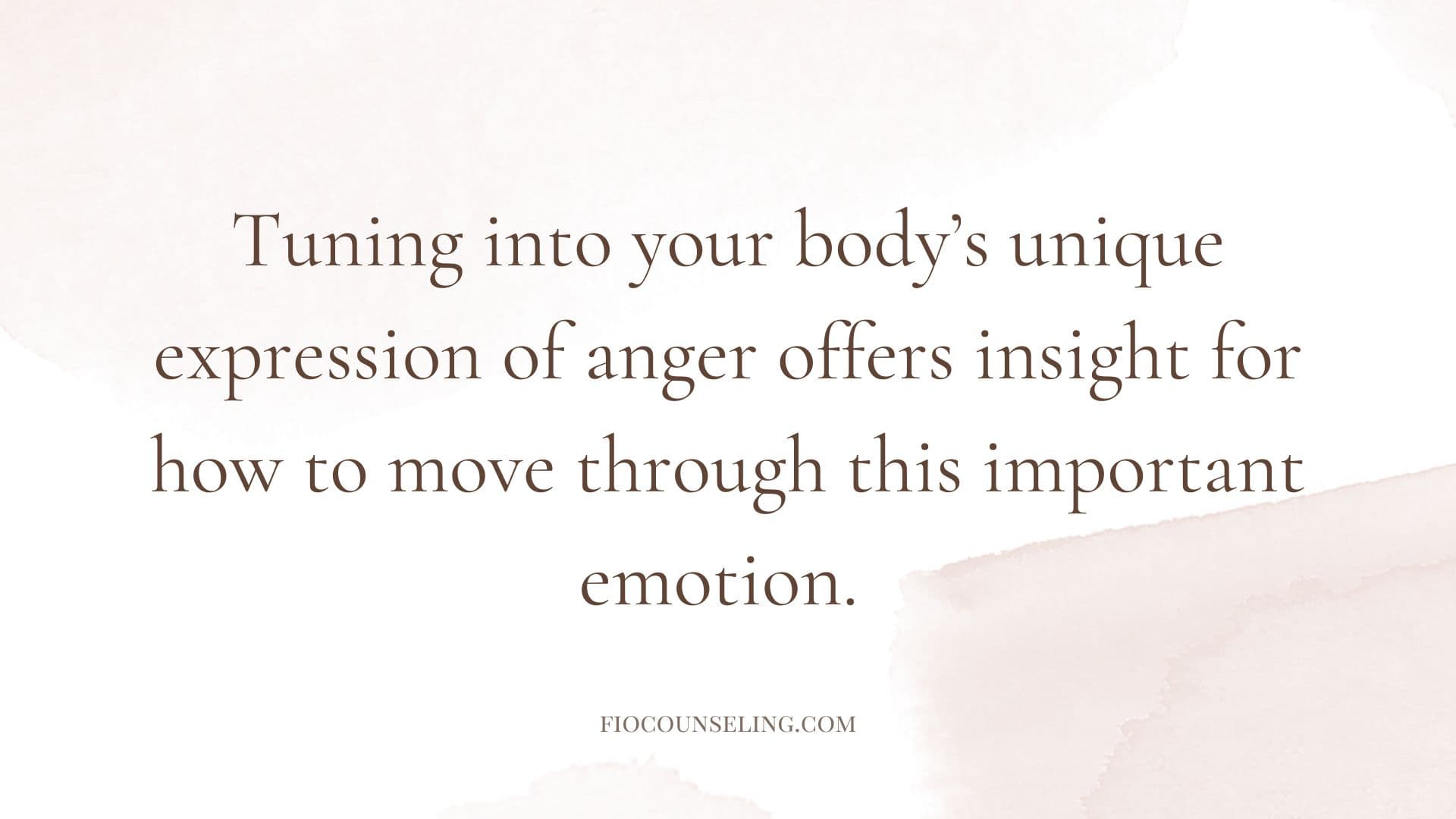 Get Curious About Your Anger
Our relationships with anger can be pretty complex, so before diving into any how-to's, I'm inviting you to first slow way down and be curious about your anger. Settle in for a moment and reflect on the influences that have shaped how you see your anger.
What's the earliest memory you have about anger (yours or someone elses)?
What happens in you as you remember this? Does your body react in a specific way? Do certain emotions surface?
What messages have you received and internalized about your anger?
How do you feel about your anger?
How do you tend to respond to your anger? Do you stuff it down? Feel ashamed? Does fear rise up?
What experiences with anger have influenced you or inform how you feel about it?
Next Steps: Embrace Your Anger With the Support of A Trauma Therapist
If you're ready to befriend your anger and learn to express it in healthy ways, consider exploring trauma therapy at Fio Counseling. Follow these 3 steps to get started:
Schedule a free 20-minute consult call at a time that's convenient for you.
Connect with a trauma therapist in Denver, CO at Fio Counseling.
Meet with a therapist in-person or online right away to learn how to transform your anger.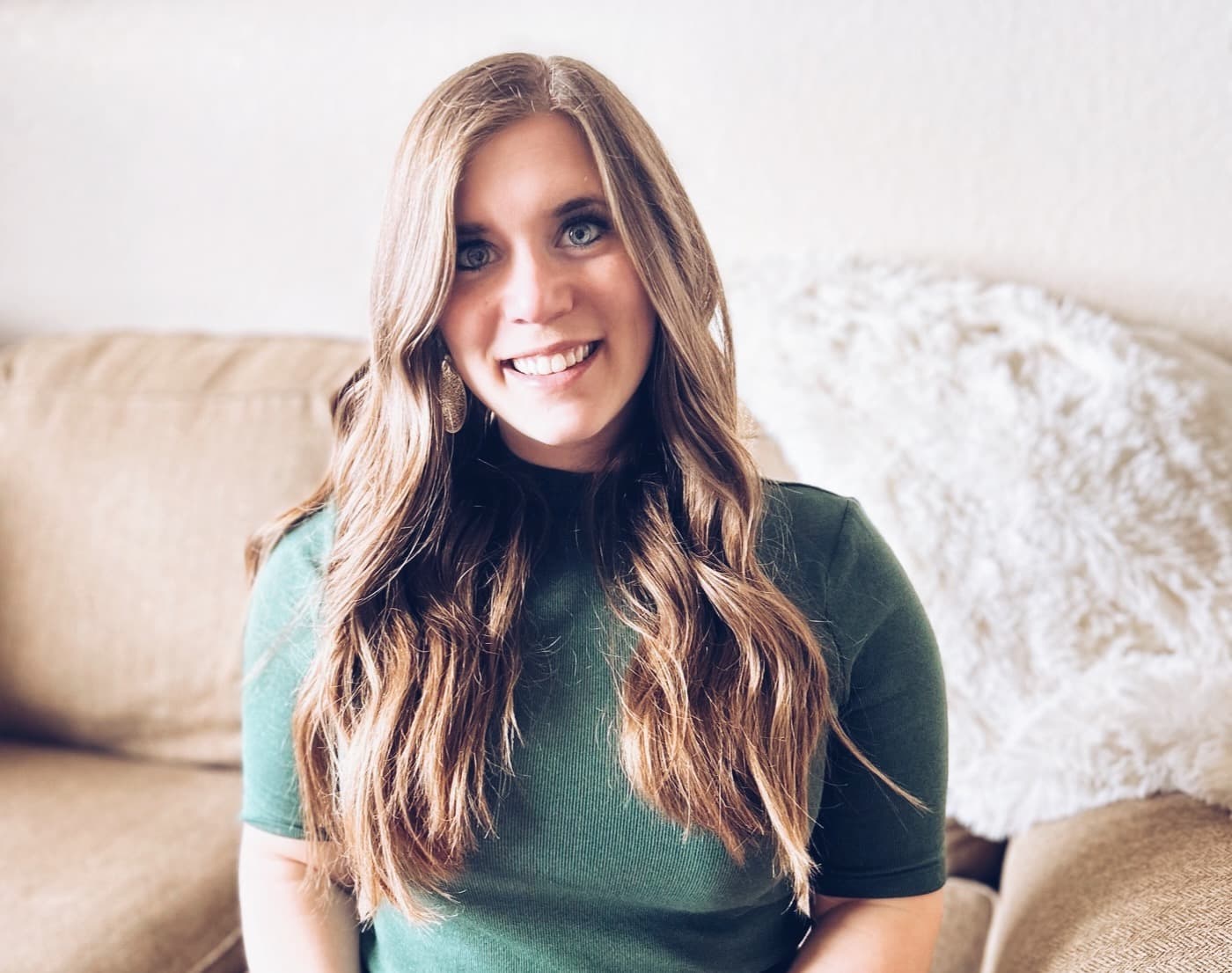 About the Author: Ali Arteaga, LPCC
Ali Arteaga (she/her) is a trauma therapist and the founder of Fio Counseling, a mental health therapy practice in Colorado. With a passion for connection, compassion, and curiosity, Ali is dedicated to helping her clients reclaim their lives from trauma and live abundant, authentic lives.
Embracing her own healing journey through complex trauma led Ali to devote her life to helping others feel at home within themselves. She's been there (personally and professionally) and is a gentle, compassionate guide helping you find your way back to you.
Ali honors the uniqueness of your story and meets you where you're at. She weaves in evidenced-based modalities such as Internal Family Systems (IFS) therapy and somatic therapy into her work with clients.